The Charter School Bermondsey is committed to safeguarding and promoting the welfare of children and expects all staff and volunteers to share this commitment. We have a number of policies and procedures in place that contribute to our safeguarding commitments, including our Safeguarding, Child Protection and Student Welfare Policy
All staff receive annual Child Protection and Safeguarding update training and are aware of the procedures for passing concerns within school. If any members of the school or local community have concerns about the welfare of a child, please pass them on to the Designated Safeguarding Lead, Mr Snoxell on esnoxell@charterbermondsey.org.uk, or via the school office on 02035426506, or mobile 07796670211.
Anonymous Reporting
Anything you write will be sent anonymously and is confidential. Your report will be sent to Mr Snoxell, in the first instance
Submit a report here
NSPCC Reporting
The NSPCC  have launched a dedicated helpline for children and young people who have experienced sexual harassment or abuse at school, and for worried adults and professionals that need support and guidance.  Young people and adults can contact the NSPCC helpline, Report Abuse in Education on 0800 136 663 or email help@nspcc.org.uk
CEOP Reporting
Child Exploitation and Online Protection command – Are you worried about online sexual abuse or the way someone has been communicating with you online? Make a report to one of CEOP's Child Protection Advisors
Fearless
www.fearless.org/ is a service that allows you to pass on information about crime 100% anonymously. This means you don't have to give any personal details.
Safeguarding Team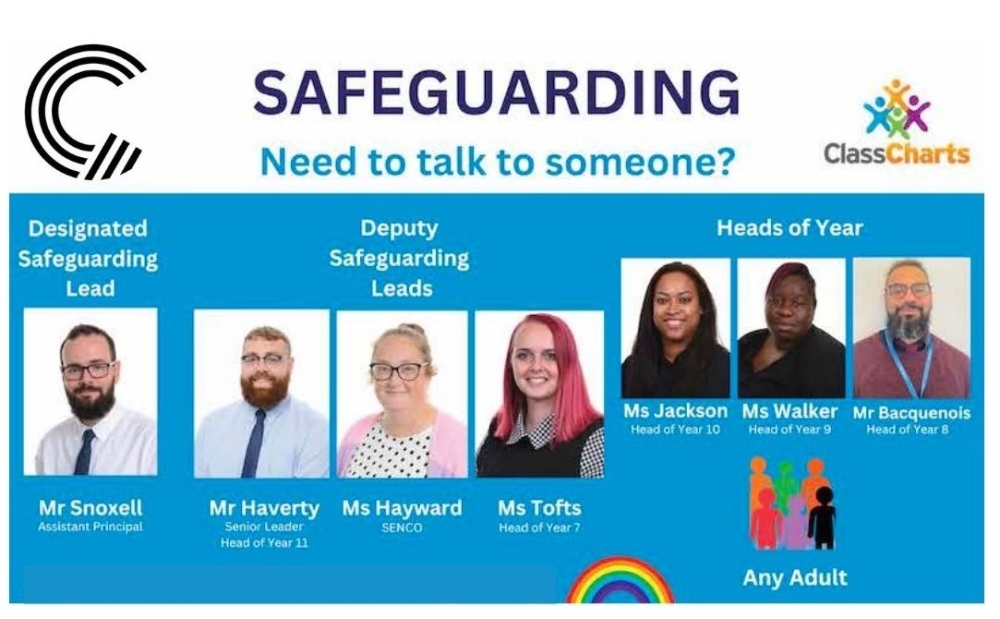 Designated Safeguarding Lead:
Mr Snoxell, Assistant Principal esnoxell@charterbermondsey.org.uk
Deputy Designated Safeguarding Leads:
Ms Tofts, Head of Year  mtofts@charterbermondsey.org.uk
Mr Haverty, Senior Leader phaverty@charterbermondsey.org.uk
Ms Hayward, SENCO Safeguarding, Child Protection and Student Welfare Policy
School Counsellor – Ms Caroline Christian.  Please speak to your Head of Year if you would like a referral to see the school counsellor
Useful websites and telephone numbers
Childline – www.childline.org.uk – 0800 1111
If you have been a victim of crime: Victim Support – www.victimsupport.org.uk
Organisations to support mental health:
Kooth  – www.kooth.com
YoungMinds – www.youngminds.org.uk
Helplines to support young people who identify as LGBTQ+: www.theproudtrust.org/for-young-people
Frank – Honest information about drugs – www.talktofrank.com/
Spotlight on Wellbeing 
We believe success at school is determined as much by wellbeing as it is by academic ability: if pupils feel healthy and content within themselves and their environment, then they are far more likely to perform to the best of their academic ability. 
These links encourage pupils to take responsibility for their health and wellbeing alongside the support they can expect from our staff.
Headspace have a mobile app which makes practicing mindfulness much easier! Helping you learn easy techniques that you can transfer from the session into your everyday life. You can sign up for free on their Take 10 programme – just 10 minutes a day for 10 days.   
Have a look at the Mental health foundation to download free wellbeing podcasts on mindfulness, exercise, diet, relaxation, stress and anxiety. 
Happify will develop skills in order to boost emotional wellbeing. 
UK-wide online courses 
Living Life To The Full covers low mood and stress and all of the common linked problems this causes. Work out why you feel as you do, how to tackle problems, build confidence, get going again, feel happier, stay calm, tackle upsetting thinking and more. 
MoodGYM will help you learn cognitive behavioural therapy skills for preventing and coping with depression with MoodGYM, for free. 
Free yoga with downdog when you sign in using your school email address