Compass School became The Charter School Bermondsey on the 1st of July 2023
We have made small changes to our uniform, which minimises additional costs to families: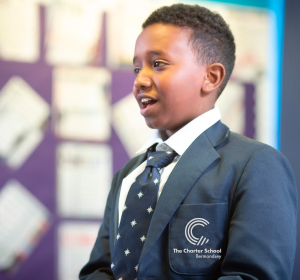 All students will receive a new school tie at the start of the new term without cost
New blazers, PE shirts and tracksuit tops with the updated logo are now available to purchase from Price & Buckland.
A free, iron-on new logo for existing blazers will be available to existing students. These will be available for collection from school in August. We will notify families once we have received these.
Compass PE kit can still be worn until parents are ready to replace these
We have asked Price & Buckland to design a summer dress for 2024 to add to the diversity of our uniform
Uniform Policy
Students must wear the correct uniform at all times and come to school in PE kit on the days they have practical PE. We have kept compulsory branded items to a minimum and our online shop through Price & Buckland ensures costs remain low. 
The school has a limited stock of used items available to support any students experiencing hardship. Existing students or parents should contact their child's head of year. Those in Year 6 and transitioning to The Charter School Bermondsey should contact transition@charterbermondsey.org.uk.
The items below reflect the correct school uniform, with compulsory branded items purchased from Price & Buckland in bold. All other items are not branded and can be purchased from a retailer of parents' choice:
Single-breasted blazer with logo

Plain navy-blue V-necked jumper

White shirt buttoned to the neck

Grey or black socks only

Plain black leather/ vegan leather shoes without logos (see examples at foot of this page)

Belts, if worn, must be plain black with a plain buckle

Mid-grey trousers or shorts (tailored, not tight, shorts knee length)

Charter School Bermondsey tartan skirt (optional) or mid-grey skirt (skirt knee length)

Plain navy or black hijab (optional)

A school bag large enough to carry an unfolded A4 folder

Coat (optional) – this should be fit for providing protection from the

weather and not a fashion item. (E.g. No denim, leather, or fur).
PE kit
If students have a practical PE lesson, they attend school in their PE kit:
School polo shirt 

Navy blue shorts

Pale blue sports socks

Sports trainers

School tracksuit top

Students may wear their school blazer over their PE top during the day if they do not have a school tracksuit

 top. This is removed for PE lessons.

Tracksuit bottoms (optional) or plain tracksuit/jogging bottoms without logo.

A plain, black, base layer for warmth (optional)
Students who don't have correct PE kit will be supported with a replacement so learning is not disrupted. They will receive an "Incorrect Uniform -1". If a student has no PE kit, they will be parked for the lesson and receive a 60 minute detention that day.
Please note that we do not sell uniform in school. The only item available to purchase from school is the tie.
Jewellery, accessories and hair
Students should not wear jewellery to school, other than single, small, plain, gold, silver or pearl stud earrings and/or a wristwatch.
Jewellery and piercings on other parts of the face and body must not be worn whilst at school·

Hair must be neat with no shaved patterns or in facial hair.

Hair must be of a natural colour

Hair accessories must be discreet and navy blue/grey/black

Headscarves are not permitted unless worn for religious observance
Where a student is required to wear additional items for religious reasons, parents/carers must send a letter to the school to confirm this and reasonable allowances will be made, providing the health and safety of the student or their peers is not compromised.
Makeup
Students should not wear makeup or nail polish to school, and staff have the authority to ask students to remove makeup with wipes. This includes but is not limited to:
Acrylic nails

False eyelashes and eyebrows
An "Incorrect Uniform -1" correction will be issued for non-compliance with our uniform. Where unresolved, students will be required to work in the Behaviour Support Unit and parents/carers will be informed.
Footwear
Students must wear black leather school shoes. See the below illustrations for guidance.