Compass free fruit initiative gets a cash boost 
The Charter School Bermondsey was delighted to hear that The Worshipful Company of Pattenmakers were sponsoring their free fruit programme to the tune of £1,500.  
Having initially been set up as part of Compass' Children's Mental Health Week activities, students now have free fruit on arrival each morning for at least the next 10 weeks.
The World Health Organisation's 5 A Day Campaign encourages fruit and vegetables as part of a healthy, balanced diet. Evidence shows there are significant health benefits to getting at least 5 portions of a variety of fruit and vegetables every day, so it's important that we all eat enough of them to stay healthy.
Principal, Marcus Huntley said:
"The school is delighted to receive this donation and pupils are certainly making the most of this offer. The cost-of-living crisis has a wide-ranging impact including cutting back on healthy food. We hope to continue to offer free fruit beyond the 10 weeks of initial funding."
Nam, Year 9 said:
"I keep physically healthy through the Greenhouse Table Tennis club, but I don't always eat healthily. Having the fruit just there for us helps me make the right choice."
The Charter School Bermondsey participated in Place2Be's Children's Mental Health Week 2023, from 6-12 February 2023. This year's theme, Let's Connect, aims to make a difference to the lives of children and young people across the UK. There were student, parent and staff focused activities in school including some led by The Nest.
The Worshipful Company of Pattenmakers, whose Royal Charter was granted in 1670, is a keen supporter of the school, providing support for initiatives including art workshops and careers programmes.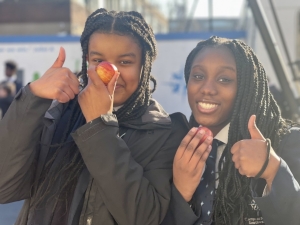 https://www.charterbermondsey.org.uk/wp-content/uploads/2023/02/thumbnail_IMG_6610-1.jpeg
893
1210
MHuntley@charterbermondsey.org.uk
https://www.charterbermondsey.org.uk/wp-content/uploads/2023/07/logo-header-blue.svg
MHuntley@charterbermondsey.org.uk
2023-02-22 22:11:58
2023-02-22 22:11:58
Compass free fruit initiative gets a cash boost